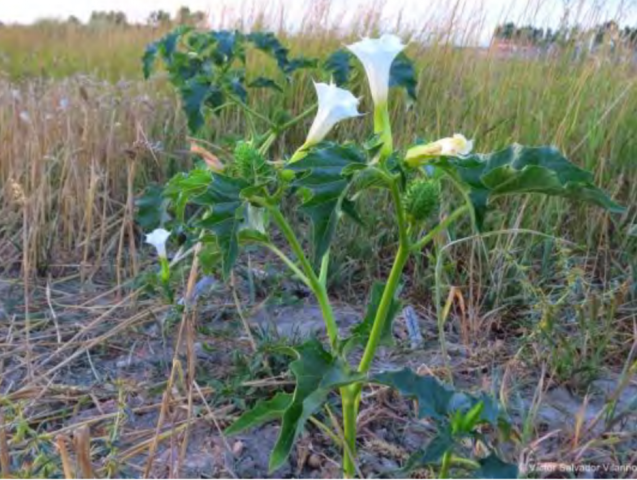 INTRODUCTION:
The expansion of exotic species is one of the greatest threats to biodiversity, with wetlands being very vulnerable to these invasions. especially in rivers and streams that, due to their spatial continuity, act as corridors along which invasive species roam. At the same time, they displace many native species and formations from their original sites, among them the most typical species of these environments, which end up being the most threatened victims.
In order to prevent these damages, species with invasive capacity must be identified, together with their reproduction and dissemination mechanisms, in order to be able to intervene on them as efficiently as possible.
OBJECTIVES:
This measure aims to examine the status of the populations of exotic and invasive species within the CyL area and specifically within the Natura Network Areas included in the MedWetRivers project.
EXECUTION AND RESULTS:
THIS ACTION IS COMPLETE AT THE PRESENT.
The results will contribute to the achievement of objective 5 of the European Strategy on biodiversity for 2020, to implement the Birds Directive (Article 11) and the Habitats Directive (Article 22) and responds to Law 42/2007 (Article 61), since it will identify and prioritize invasive alien species and colonization mechanisms, establishing measures for their control and eradication, as well as to prevent their introduction and settlement and, if necessary, propose their inclusion in the Spanish Catalog of Species Exotic Invasive and future Regional Catalog of Invasive Exotic Species.
Studies have been conducted on the American raccoon and a compilation of existing information on invasive flora and fauna, its diagnosis and management measures applied in other territories. For this species in particular, a study has been carried out, focused on the areas adjacent to other autonomous communities with stable populations, to be able to detect at an early stage the species and, if confirmed, to determine its population status and design a program of monitoring and population control.
On the following link it can be downloaded:
Final report of the work of gathering information, diagnosis and management measures on invasive alien species.
(Note: The report does not include Annex V - files of the exotic species present in the field of study-, since they are presented later to be downloaded individually).
The memory accessed through the link provided above, does not include its annex V: Exotic species files present in the field of study. They are listed below so they can be downloaded individually:
| | | | |
| --- | --- | --- | --- |
| GRUPO TAXONOMICO | NOMBRE COMÚN | NOMBRE CIENTÍFICO |   |
| FLORA | Didymo o moco de roca | Didymosphenia geminata | |
| FLORA | Helecho de agua | Azolla spp | |
| FLORA | Fitolaca, hierba carmín | Phytolacca americana | |
| FLORA | Tunera común | Opuntia maxima | |
| FLORA | Té de Nueva España, té español,  té de Mejico | Chenopodium ambrosioides | |
| FLORA | Ceñiglo de Buenos Aires | Chenopodium multifidum | |
| FLORA | Bledo, amaranto | Amaranthus hybridus | |
| FLORA | Bledo | Amaranthus powellii | |
| FLORA | Bledo, breo | Amaranthus retroflexus | |
| FLORA | Viña del Tibet | Fallopia baldschuanica | |
| FLORA | Polígono trepador | Fallopia dumetorum | |
| FLORA | Hierba nudosa japonesa | Reynoutria japonica | |
| FLORA |   | Rumex cristatus | |
| FLORA | Soja americana, hoja de terciopelo | Abutilon theophrasti | |
| FLORA | Chopo canadiense | Populus x canadensis | |
| FLORA | Mimosa | Acacia dealbata | |
| FLORA | Acacia de tres espinas, acacia de tres púas | Gleditsia triacanthos | |
| FLORA | Falsa acacia, acacia bastarda | Robinia pseudoacacia | |
| FLORA |   | Epilobium brachycarpum | |
| FLORA | Enotera, hierba del asno | Oenothera biennis | |
| FLORA | Enotera, hierba del asno | Oenothera glazioviana | |
| FLORA | Árbol del paraíso | Elaeagnus angustifolia | |
| FLORA | Castaño de Indías, castaño caballar, falso castaño | Aesculus hippocastanum | |
| FLORA | Arce de hoja de fresno, negundo | Acer negundo | |
| FLORA | Ailanto | Ailanthus altissima | |
| FLORA | Alcandórea, pervinca | Vinca difformis | |
| FLORA | Estramonio, berenjena del diablo | Datura stramonium | |
| FLORA | Campanilla morada | Ipomoea purpurea | |
| FLORA | Budleya | Buddleja davidii | |
| FLORA | Rubia de tintes, hierba pegajosa, enroya, garanza | Rubia tinctorum | |
| FLORA | Altamira, ajenjo de China | Artemisia verlotiorum | |
| FLORA | Matacavero, rompedallas | Aster squamatus | |
| FLORA | Té de milpa, aceitilla | Bidens aurea | |
| FLORA | Cáñamo de agua americano | Bidens frondosa | |
| FLORA | Zamarraga | Conyza spp | |
| FLORA | Pataca, tupinambo | Helianthus tuberosus | |
| FLORA | Senecio del Cabo | Senecio inaequidens | |
| FLORA | Amargaza, manzanilla brava, camamila de los huertos | Tanacetum parthenium | |
| FLORA | Abrojos, arrancamoños | Xanthium spinosum | |
| FLORA | Bardana, bardana menor,  cadillos, pegotes | Xanthium strumarium sl | |
| FLORA | Broza del Canadá, peste de agua | Elodea canadensis | |
| FLORA | Amor de hombre, oreja de gato | Tradescantia fluminensis | |
| FLORA | Caña, cañavera | Arundo donax | |
| FLORA | Hierba de la Pampa | Cortaderia selloana | |
| FLORA | Gramilla, gramón | Paspalum dilatatum | |
| FLORA | Gramón, grama de agua | Paspalum paspalodes | |
| FLORA | Juncia americana | Cyperus eragrostis | |
| FLORA | Pitera común | Agave americana | |
| INVERTEBRADOS | Caracol del cieno | Potamopyrgus antipodarum | |
| INVERTEBRADOS | Almeja de río asiática | Corbicula fluminea | |
| INVERTEBRADOS | Mejillón cebra | Dreissena polymorpha | |
| INVERTEBRADOS | Gusano ancla parásito | Lernaea cyprinacea | |
| INVERTEBRADOS | Cangrejo señal | Pacifastacus leniusculus | |
| INVERTEBRADOS | Cangrejo rojo | Procambarus clarkii | |
| PECES | Salmón del Danubio | Hucho hucho | |
| PECES | Trucha arco iris | Oncorhynchus mykiss | |
| PECES | Lucio | Esox lucius | |
| PECES | Carpa común | Cyprinus carpio | |
| PECES | Carpín, pez rojo | Carassius auratus | |
| PECES | Alburno | Alburnus alburnus | |
| PECES | Gambusia | Gambusia holbrooki | |
| PECES | Pez gato negro | Ameiurus melas | |
| PECES | Siluro | Silurus glanis | |
| PECES | Perca americana | Micropterus salmoides | |
| PECES | Percasol | Lepomis gibbosus | |
| PECES | Lucioperca | Sander lucioperca | |
| REPTILES | Galápago americano o de Florida | Trachemys scripta | |
| AVES | Barnacla canadiense | Branta canadensis | |
| REPTILES | Tortuga mapa | Graptemys spp | |
| AVES | Ganso del Nilo | Alopochen aegyptiaca | |
| AVES | Malvasía canela | Oxyura jamaicensis | |
| MAMÍFEROS | Visón americano | Neovison vison | |
Updated information on invasive exotic species will be essential for the updating and mandatory revision of the already approved instruments for planning, management and monitoring of the Natura 2000 Network Protected Areas in Castilla y León