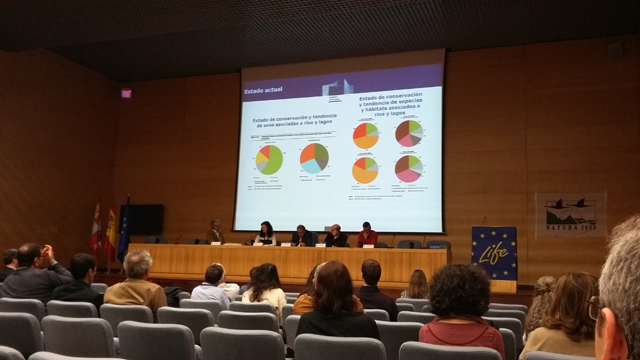 INTRODUCTION:
It is essential for the development of the LIFE + project to establish working meetings to, on the one hand, know and exchange management and monitoring experiences in Protected  Natura 2000 network that depend on water in the Mediterranean area. On the other, the diffusing role of the results of the project is also one of the fundamental tasks with which the celebration of this type of events is considered.
OBJECTIVES:
To give service and advice for the management of the project.
· Have a training role, and at the same time informative, since they will be open to technicians and professionals related to the planning, management of protected and with the monitoring of the natural values for which they were designated.
· To serve for the communication of the information between researchers and managers, as well as between managers of different administrations.
To contribute for the dissemination of the project at regional, country and European level.
EXECUTION AND RESULTS:
Between the 26th and the 28th of April 2016, the International Seminar "Management and monitoring of Mediterranean rivers and wetlands of the Natura 2000 Network: Coordination of the application of Nature Directives and the Water Framework Directive" was held at the headquarters of the Ministry of Development and Environment of the Junta de Castilla y León. "It was organized by the Ministry of Agriculture, Food and Environment, with the collaboration of TRAGSATEC and JCyL as a partner of the LIFE MedWetRivers Project, where attended some of the greatest experts in the management of rivers and wetlands.
During the three days of the seminar, it was distinguished of its practical character, with joint plenary sessions and different working groups for rivers and wetlands. We sought to obtain results with demonstrative value, which could be transferred to other territories.
Seminar outline and Conclusions
All the papers and communications presented can be downloaded through the following link: PAPERS 1st INTERNATIONAL SEMINAR.
Photos from the first international seminar.
Taking into account the time available and the coincidence with the preparation of the planned informative seminar associated with the E5 action, it has recently been considered appropriate to hold the pending international seminar in conjunction with it, scheduled for October 2018.